Probably there's nothing in this modern world that labels you as quaint, eccentric, old school, a dinosaur – nothing quite as much as admitting you are a collector of fine china. That in fact you have a set of "good" china. Alas, we do.
We started back around 1975 – that was the time I got some money back from a Thrift Investment Plan I had to cash in when I left General Foods. We thought we'd start on a set of good china, and so we went to Birks in Pointe-Claire and got our starter four place setting of Royal Worcester Evesham.
Evesham was an old style pattern back then but we liked the fruit and veggies on the plates and the gold trim. We asked for pieces for Christmas and birthdays, put in a bit more of our own cash over the years. Now we have a 12 place setting with a bunch of baking and serving dishes. Even have some egg coddlers (don't ask.)
And does this "good china" get used? Well – not much. The gold trim precludes heating the dishes in a microwave, and we are a bit queasy about dumping everything into the dishwasher.
This past Christmas we had a large family gathering and the good stuff stayed in the cupboard again. We used our everyday plates and cups and for extras we also have a complete set of 1980 vintage Johnson Brothers crockery that is dishwasher safe. Maria picked it up for a song at the charity shop where she works.
As a guess I'd be surprised if you could get 20% of what we paid for our Evesham set in an auction. Folks just do not set out good china, or entertain at home with it nowadays. Our daughter says she likes it so maybe it'll be a reluctant heirloom for her in the not so far distant future.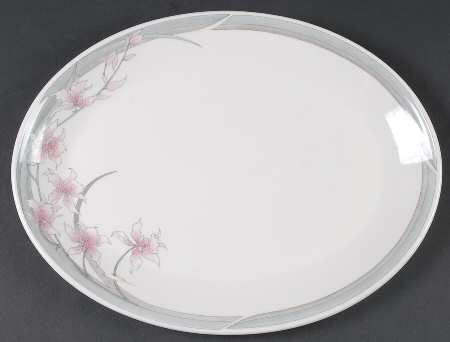 Now everyday china – that's a whole 'nother thing. Sarah would take this stuff in a heartbeat – but that won't happen any time soon.
This robust set of Royal Doulton Mayfair Lambethware is something we started to collect after I went to work at Lipton in the mid 80s. It replaced a couple of cheap Japanese stoneware sets that I ended up taking into the lab to use in product showings. It's probably not worth much either but it gets used and abused everyday. After more than 30 years it's still going strong
The classic Evesham pattern is still produced by Royal Worcester's parent company and I believe in one of the last operating potteries in the UK. The Royal Doulton Lambethware is out of production but again you can pick up used pieces on the cheap if you need to replace anything.
And besides these three sets of English china we have a complete set of German crockery that Maria's parents bought for her before we got married. And that doesn't even count a bunch of Paragon teacups and Gibson teapots and Royal Doulton figurines that hang around our place. Dinosaurs and proud of it.